Something amazing happened at the Northern Colorado Regional Airport this weekend! The Collings Foundation brought in their Wings of Freedom WWII War Birds planes: B-17, B-24 & B-25 bombers, a P-51 Mustang, and a P-40 Warhawk. Individuals and families could climb through the bombers and get a real feel for what our WWII Flyboys experienced. Plus, for a memory of a lifetime, folks could purchase a ride on one of the bombers.
Although weather delayed my ride on the B-25, the wait was worth it. Through my WWII Project, I've interviewed a number of WWII airmen, however, not until I strapped into my bench seat on the B-25 did I fully appreciate what these young guys did. These planes are not pressurized. When I felt the rush of the air from the open window, it got my attention. These planes have just a covering of metal between you and the sky and they run on propellers and cables. Once in the plane, you realize that they were made for nimble young men to operate. It is absolutely astounding that these planes and young men helped to defeat evil, tyranny, and oppression on two war fronts.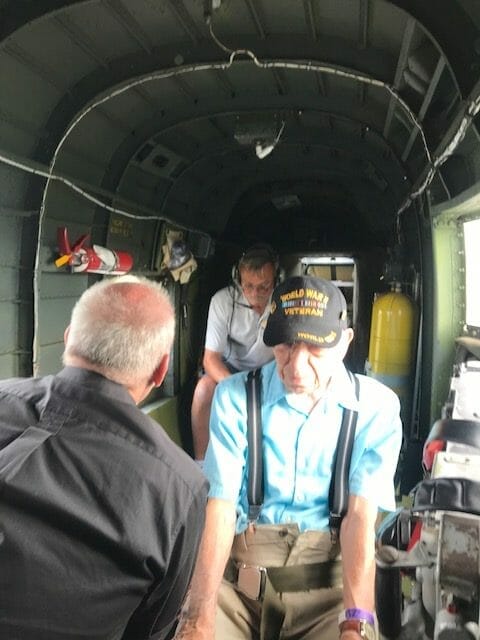 Something else remarkable happened. There were six of us on my B-25 ride. One of them was a WWII veteran. As this small man, in his nineties, with his walker, approached the plane, I saw his determination that he was going to do this ride. Several family members were with him and they seemed a bit concerned. In order to enter the plane, we had to climb up a ladder, which was not a simple nor easy entry. With some assistance, he climbed the ladder and strapped into his seat. As we flew along, I watched him. He gently touched the gun sticking out of the window that he was sitting by. He looked like he was reliving memories. I could only imagine what was going thru his mind. His determination to successfully do this ride reminds me of who we are as Americans, determined, persistent and courageous.
We lost 88,000 airmen in WWII. To keep their memories alive, the woman behind this amazing weekend is Jeneal (JR) McKinley, aka Rosie the Riveter. JR has a love for our WWII history & heritage and it brought tears to her eyes as 26 WWII Veterans were honored on the tarmac. It is because of extraordinary Americans, like JR McKinley, that I find hope for our country and our world. Thank you.
Photos of the entire event courtesy of the fantastic Derek Kendall. You can find more of Derek's here. 
The National Popular Vote Interstate Compact threatens to undo the protections of the Electoral College and take away the will of smaller states in presidential elections.
Read More »