Kamala Harris And Others Lie About Trump Tax Cuts
With April 15th around the corner, many Americans have their minds on taxes. Kim and Producer Steve address the misinformation around 2018 tax refunds. Many people are claiming that Trump's Tax Cuts and Jobs Act is actually a tax increase on the poor and the middle class. Kamala Harris, a Democratic Senator of California, has used her platform and access to the press to make this claim.
The average tax refund is down about $170 compared to last year. Let's call the President's tax cut what it is: a middle-class tax hike to line the pockets of already wealthy corporations and the 1%.

— Kamala Harris (@KamalaHarris) February 11, 2019
Kim and Jason McBride cut to the heart of the matter, and show Kamala's statements to be fake news while also making an excellent point about tax refunds: what advantage do citizens get when they give the government interest-free loans? Kim and Jason go into greater depth on this issue and other tax-related topics in episode 14 of The Eagle's Nest Podcast.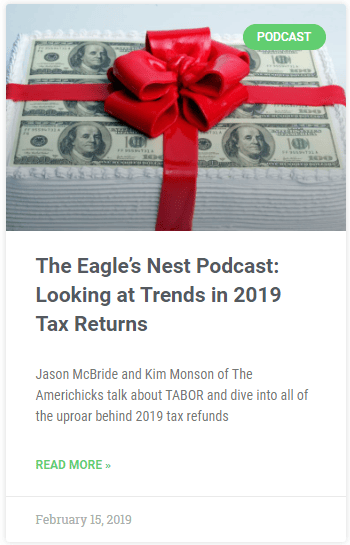 February's Vino & Veritas Recap and The Importance of The Federalist Papers
Susan Kochevar, owner of 88 Drive-in and historian Ben Martin join Kim to discuss the Federalist papers and their importance. Kochevar, the sponsor for February's Vino & Veritas gathering, gives her unvarnished take on the depth and the timeless relevance the Federalist papers bring to modern political situations and event. Martin explains why the Federalist Papers are so important for our present and our future.
Today's show: