Conservative Issues in Sweden Much The Same as in Colorado and America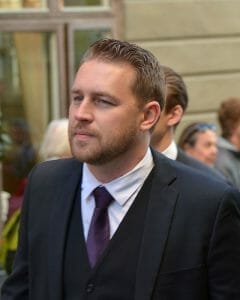 Mattias Karlsson, Leader of the Sweden Democrats party, calls in from New York City to talk with Kim about his current mission in America and the political issues facing Sweden. Karlsson's visit to America first brings him to NYC as part of the Swedish delegation's visit to the United Nations.  Karlsson will then be traveling to Colorado as a guest of the Steamboat Institute. Karlsson talks about his role as a conservative counterpoint to the liberal members of the Swedish delegation and then the conversation turns to the shared traits and differences of Swedish and American conservatives, as well as prominent conservative issues in Sweden, included immigration and the welfare state.
Protecting TABOR in 2019
Featured guest Amy Oliver Cooke is the Executive Vice President of the Independence Institute and she joins the show to discuss Colorado's Taxpayer's Bill of Rights (TABOR) and the legislative threats it is facing in 2019 from members of the Left and the Right. Cooke talks about how Coloradoans can support and protect TABOR and explains how politicians are using round-about methods to get past the spirit of TABOR.
Kim mentions her appearance with Jason McBride on The Eagle's Nest podcast last week where she talks about TABOR.
For more information and to sign the pledge to help stop the assault on TABOR, visit TABOR Yes! 
How to Improve Your 401k Holdings
Jason McBride, Senior Vice President of Presidential Wealth Management, joins Kim in the studio to give advice and tips to listeners on how to improve the quality of their 401k holdings through research and investigation. McBride is a frequent guest and contributor to the show. Jason often hosts The Eagle's Nest, a weekly podcast on financial and investment issues.